Bangladesh arrests three atheist bloggers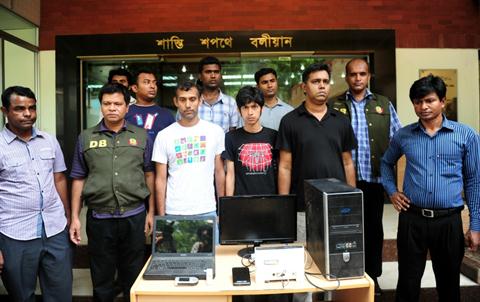 [ad]
Bangladesh police have arrested three atheist bloggers for allegedly defaming Islam and the Prophet Mohammed, police said Tuesday, amid calls from religious fundamentalists for an Internet crackdown.
The arrest of the three, who were paraded in handcuffs at a news conference, followed pressure from Islamists who have organised a march from all over the country to the capital to demand the death penalty for atheist bloggers.
"They have hurt the religious feelings of the people by writing against different religions and their prophets and founders including the Prophet Mohammed," said deputy commissioner of Dhaka police, Molla Nazrul Islam.
The three could face 10 years in jail if convicted under the country's cyber laws which outlaw "defaming" a religion, Islam said.
He denied the arrests were linked to the planned march to Dhaka set for Saturday.
Home Minister Muhiuddin Khan said the three arrested men were among 84 "atheist bloggers" named in a list handed over by an Islamist group to a government panel probing alleged blasphemy against Islam on the Internet.
"The arrests were made on primary information" and further investigation is underway, Khan said, adding the government would act toughly to prevent any attempt to upset "communal harmony" via the Internet.
There has been vociferous debate between staunch atheists and fundamentalists in Bangladesh's blogosphere and on social media for years, but it took a deadly turn in February when an atheist blogger was murdered.
The arrests came as Bangladesh has been hit by violent protests over a war crimes tribunal which is trying leading Islamists who opposed the country's independence from Pakistan during the 1971 liberation war.
Protests encouraged by secular bloggers have seen hundreds of thousands of people take to the streets demanding the execution of leaders of the Jamaat-e-Islami party, the country's largest Islamic party and key opposition.
Islamists have in turn held demonstrations demanding the trials be halted and have also begun targeting bloggers.
The government has blocked about a dozen websites and blogs to stem the unrest. It also set up a panel, which included intelligence chiefs, to snoop for blasphemy in the social media.
Last week the telecoms regulator ordered two sites to remove hundreds of posts of seven bloggers whose writings it said offended Muslims.
Meanwhile, a group of bloggers protested the overnight arrests of the three men and said their detention meant the government is caving in to pressure from Islamist groups.
"We demand their release. The future of Bangladesh is bleak if the freedom expression of the bloggers is curbed," Fahmidul Haq, a blogger and Dhaka University professor, said at a news conference.
Haq said the lives of the 84 bloggers who were named in the list prepared by Islamists now were at risk.
Scores of bloggers held hands to form a human chain in Dhaka to protest the arrests while a popular blog site, Amarblog.com, said it was shutting down until the bloggers were freed "unconditionally".